2018中国(厦门)
首届跨境电商产业发展论坛暨国际优品展
跨界 融合 共享
——中国通八方 跨境连世界——
邀请函
2018 China (Xiamen)
First Cross-border E-commerce Industry Development Forum and International Product Exhibition
Cross-boundary Integration and Sharing
——Cross-border E-commerce Connects China to the World——
Invitation
2018年6月26日-28日
中国·厦门
厦门国际会展中心
June.26, 2018 to June.28, 2018
Xiamen · China
(Xiamen International Convention and Exhibition Center)
主办单位:中国医药物资协会
联合主办单位:中国国际贸易促进委员会厦门市委员会
承办单位:中国医药物资协会跨境电商产业发展委员会、跨境联盟(厦门)信息科技有限公司、厦门市跨境电子商务协会
Co-sponsor: China Council for the Promotion of International Trade Xiamen Committee (CCIPT Xiamen)
Organizer: China Medical Pharmaceutical Material Association Cross-border E-commerce Industry Development Committee, ACE (Xiamen) Information Technology Co., LTD., Xiamen Cross-border E-commerce Association
大会日程
(一)报到:2018年6月25日
(二)布展:2018年6月25日(北京时间)
(三)展出:2018年6月26日-27日( 全程展出:产品发布会;订购对接会;项目对接会)
6月26日
◆开幕式及跨境进口主题论坛
◆产品发布会;订购对接会;项目对接会(地点:展厅VIP01-06;主会场VIP01-04)
6月27日
◆主论坛:跨境出口主题论坛
◆产品发布会;订购对接会;项目对接会(地点:展厅VIP01-06;主会场VIP01-04)
6月28日
◆商务考察(注:需向组委会提前报名)
◆商务对接洽谈会(注:项目合作洽谈内容包括:项目对接;确定合作方案;签署合作协议;拟定执行计划;平台入驻;运营启动等)
(四)撤展:2018年6月28日上午
Agenda
1.
Check-in: June 25, 2018
2.
Booth decoration, June 25, 2018
June 26, 2018
◆Opening Ceremony
◆Main Forum:
Cross-border e-commerce "new scene, new mode, new retail";
June 27, 2018
◆Main Forum: Cross-border interconnection to Explore Overseas Opportunities:
June 28, 2018
跨境电商独特优势
1.海外厂商的商品仅需在当地取得销售许可证及合法手续,我们即可帮助厂商进行商品备案,并通过跨境电商快速进入中国市场,这一全新的贸易模式,为海外厂商省去了传统一般贸易所必须的繁琐手续及诸多限制,海外商品进入中国市场从此变得高效快捷、畅通无阻。
2.海外厂商的商品只需在"中国海关总署跨境电商零售进口正面清单第一批、第二批"(总计高达1200多种品类)所列范围内,皆可通过跨境电商模式进入中国;
3.我们将为海外厂商提供商品备案、图片优化、商品上架、推广分销等各种服务,帮助海外厂商商品顺利进入中国市场。
Unique Advantages of Cross-border E-commerce
1.
As long as the overseas manufacturers have obtained the lawful qualifications of products such as free-sale certificates, we can help them enter into the Chinese market right away, without the barriers and limitations they meet in the traditional international trading. The new mode of cross-border e-commerce makes it easy for foreign new brands to get into Chinese market.
2.
All of the 1,200+ product categories listed in the "Positive List" released by the General Administration of Customs of China are allowed to enter into Chinese market through the cross-border e-commerce.
3.
3. We will provide overseas manufacturers with product registration, photo optimization, product display, promotion and other relevant services, to help introduce the products into Chinese market smoothly.
对接会亮点
1.此次对接会,特别邀请了中国3000多家连锁企业、电商、微商等B端平台,作为跨境电商进口分销商、代理商与意向代理商,旨在与海外厂商进行深入对接与合作,共同开启中国亿万跨境消费市场;海外厂商可通过现场开展"品牌发布会"、"产品对接会"、"论坛沙龙"等多种形式与中国代理商、分销商等平台或企业,进行零距离交流对接与合作洽谈;
2.在中国全国各地,有45万家连锁门店作为跨境电商进口代购服务点,面向10多亿跨境消费者,专门提供海外商品代理、代购服务,形成了庞大的跨境直购营销网络,对各类进口商品有着巨大的购买需求(这对海外厂商C端引流,业务拓展而言,具有重大意义);
3.通过跨境电商这一全新模式,将充分实现海外厂商与中国跨境进口代理商、分销商的零距离对接与深入合作,这将是海外商品进入中国市场最快速、最便捷,覆盖面最广的跨境电商对接平台,期待你的加入与到来!
Highlights of Exhibition
1.
3,000 chain store businesses, e-business companies and e-shop owners are invited as the potential distributors and dealers who will have an in-depth communication with the overseas manufacturers to jointly open the enormous Chinese cross-border comsumption market. Brand launch, product release, press conference and other events will be held by the overseas manufacturers to negotiate with the Chinese dealors and distributors face-to-face.
2.
450,000 chain stores throughout China are covered, acting as the cross-border import shopping agents for over 1 billion Chinese consumers. They comprise of a huge marketing network of cross-border e-commerce and drive the huge demand of foreign products. This is significant for foreign brands to quickly grow the Chinese consumer base
3.
The new mode of cross-border e-commerce allows overseas manufacturers to have a close relation and cooperation with Chinese dealers and distributors, and the Exhibition is the fastest, most convenient match-making platform for overseas products to tap into Chinese market. We look forward to seeing you in Xiamen.
特色服务
为了,推动海外厂商及其优质商品顺利进入中国市场,开启跨境电商新业务,我们将为海外厂商提供"会前、会中、会后"全方位宣传、推广、运营等系统服务,帮助海外厂商实现业务拓展、开启广阔的中国跨境消费市场。
Special Services
In order to introduce overseas manufacturers and their quality products into Chinese market throught the cross-border e-commerce, we will provide exhibitors with all-around publicity, promotion and operation services before, during and after the Exhibition, to help exhibitors boost business and open the enormous Chinese consumption market with ease.
1.品牌推广|展会前
①参展企业自报名之日起,组委会将会"一对一"为参展厂商做品牌推广工作。组委会工作小组将为其量身设计专属招商、宣传等推广材料,含企业宣传、产品宣传等,并由专人负责前期招商报名工作,为展会期间顺利招商做好前期品牌推广工作。
②展会前,组委会将协助"引进来"海外企业做好海关备案、商品筛选、中国市场调查、国内分销商筛选、产品包装、产品上线等以上手续的筹备工作,为展会中品牌对接与落地做好准备。
(I) Brand Promotion before the Exhibition
1. Since the date of participating enterprises entering their names, the organizing committee will prepare "one-to-one" brand promotion for every exhibitor. The committee's working group will design its exclusive promotion materials to attract investment and advertise, which include enterprise and product propaganda. Menwhile, someone will be in charge of earlier investment application and preparing the prophase brand promotion for the successful investment during the exhibition.
2. Before the exhibition, the organizing committee will assist "introduced in" exhibitors in arranging procedures such as customs files, commodities screening, Chinese market investigation, domestic distributors sifting, product packaging and product launching, etc., and preparing for brand connection and stabilization during the exhibition.
2.品牌对接|展会中
对接会期间,参展海外厂商与会前预报名医药连锁等分销平台零距离、面对面洽谈、对接、签约,同时现场与到场的最新中国其他电商分销平台进行初步意向合作及对接等。在会上初步完成与现场签约卖家平台首批产品订购,及后期合作方案落地等工作。
(II) Brand Connection during the Exhibition
During the exhibition, overseas participating manufactures will negotiate, cooperate and sign contracts with medicine-chain distributing platforms intimately and face to face, and establish initial intent of cooperation and connection with other updated Chinese e-commerce distributing platforms present on the scene. At the conference, signing contracts with seller platforms to order the first batch of products on the scene and settling later cooperation programs will be initially completed.
3.品牌落地|展会后
平台为入驻的厂商伙伴提供商品在中国的海关备案、上线运营、分销推广、品牌落地、实体展示、海外仓储、打包分拣制托、跨境物流、清关、落地配、售后等全程化服务体系。进一步协助厂商与中国境内消费者零距离接触,减少中间流程,全力助推各地海外厂商将原产地商品直邮到中国境内消费者手中。
(III) Brand Stabilization after the Exhibition
The platform will provide a whole-processing service system for settled manufacture partners, which includes customs files, launching and operating, distribution and promotion, brand stabilization, physical presence, overseas warehouse, packaging, sorting and consigning, cross-border logistics, customs liquidation, delivery and after-sales in China. The platform will also further assist manufactures in contacting with domestic consumers intimately, reducing middle flows and boosting all overseas manufactures directly mailing products of original to Chinese consumers.
①为参展海外厂商提供"一站式"品牌落地服务
1.Providing "one-stop" brand stabilization service for overseas participating manufactures.

②为参展海外厂商提供一站式电商ERP分销系统、产地仓储、物流、清关、配送等服务
2.Providing "one-stop" e-commerce ERP distributing system, origin storage, logistics, customs liquidation, delivery and other services for overseas participating manufactures.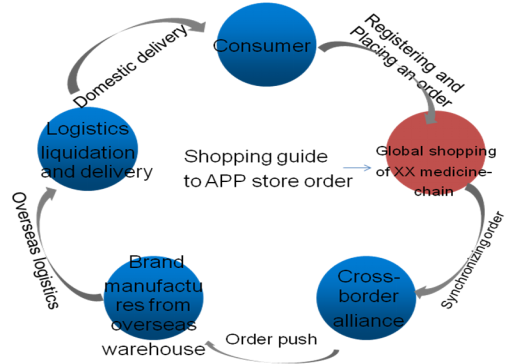 收费标准
| | | | | |
| --- | --- | --- | --- | --- |
| 序号 | 项目 | 规格大小(㎡) | 时间 | 价格 |
| (一) | 展位 | / | 全程 | / |
| 1 | 标展 | 标准展位(6-9㎡) | 全程 | 12800元 |
| 2 | 特展 | 特装展位(18㎡) | 全程 | 23800元 |
| 3 | 特展 | 特装展位(36㎡) | 全程 | 48800元 |
| 4 | 特展 | 特装展位(54㎡) | 全程 | 68800元 |
(标准配置:一桌,两椅,两只射灯,三面围板,押金300元)
Stand Investment Program
| | | | | |
| --- | --- | --- | --- | --- |
| No. | Item | Specification (㎡) | Time | Price (USD) |
| I | Booth | / | Whole exhibition | / |
| 1 | Standard booth | Standard booth (6-9㎡) | Whole exhibition | 2,016 |
| 2 | Special booth | Special booth (18㎡) | Whole exhibition | 3,748 |
| 3 | Special booth | Special booth (36㎡) | Whole exhibition | 7,685 |
| 4 | Special booth | Special booth (54㎡) | Whole exhibition | 10,835 |
(Standard booth :the booth site is provided by the organizing committee and the booth is built by the organizing committee; standard configuration: one desk, two chairs, two lamps, three partitions and a cash pledge of 48 USD)
3.VIP室
| | | | | | | |
| --- | --- | --- | --- | --- | --- | --- |
| 序号 | 项目 | 功能用途 | 时间 | 级别 | 价格 | 备注 |
| (一) | VIP室 | 发布会/论坛 | / | / | / | |
| 1 | VIP室 | 发布会/论坛等 | 全程 | 协办单位 | 20万 | |
| 2 | VIP室 | 发布会/论坛等 | 1天 | 赞助商 | 11万 | 协助 |
| 3 | VIP室 | 发布会/论坛等 | 半天 | 赞助商 | 6万 | 协助 |
| 4 | VIP室 | 发布会/论坛等 | 2小时 | 赞助商 | 3万 | 协助 |
VIP室功能:企业冠名赞助商全程使用,用于企业VIP客户接待、产品发布会、订购对接会、投资项目对接等。
VIP Room Investment Program
No.

Item

Function

Time

Level

Price (USD)

Remark

I

VIP

Room

Conference/

forum

/

/

/

1

VIP Room

Conference/

Forum

Whole exhibition

Co-organizer

31,496

2

VIP Room

Conference/

Forum

One day

Sponsors

17,323

Assitance

3

VIP Room

Conference/

Forum

Half day

Sponsors

9,449

Assitance

4

VIP Room

Conference/

Forum

Two hours

Sponsors

4,724

Assitance
展会现场示意图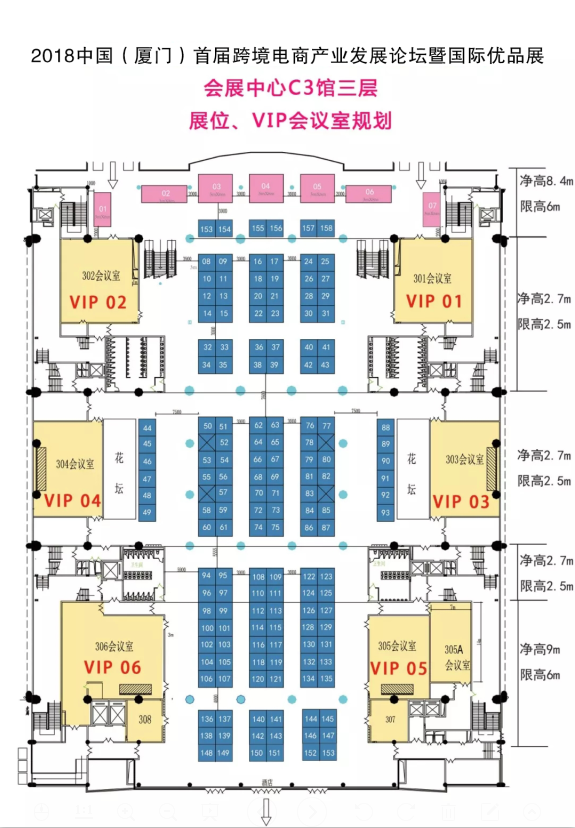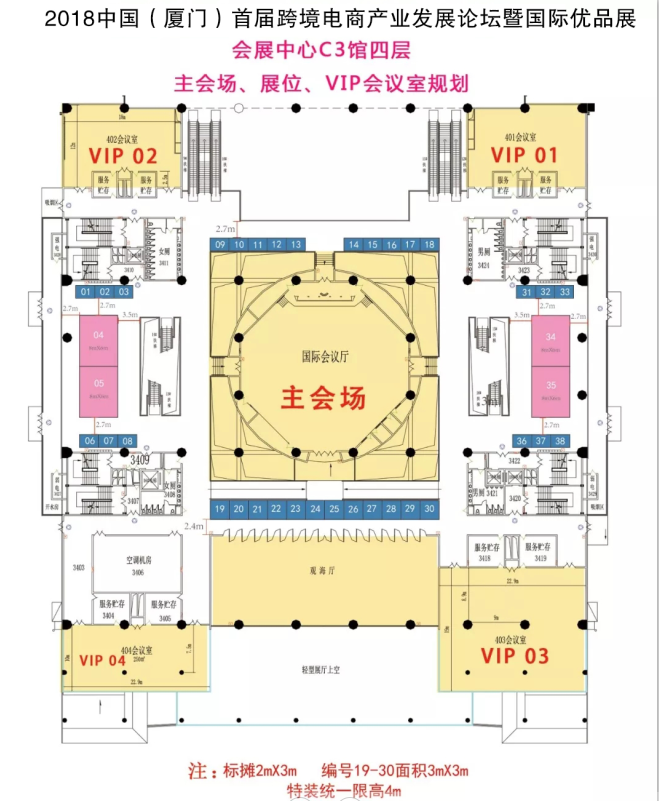 联系我们
组委会办公室:
电话:0592-2270251 手机:13950029100
联系人:彭先生
邮箱:1185158442@qq.com